A Spooky Fondness for Blow Molds
I found this really interesting site about blow molds and how to repair and restore them. The site is about Christmas blow molds, but we'll just pretend it's about Halloween, m'kay? Carrie Sansing at Planet Christmas tells you how to strip old paint from, fix holes in, and repaint vintage blow mold yard decorations, and it just tickles me to death! I love it that someone took the time to become the blow mold repair expert! And I love it more that it's a woman, because it feels like I found a kindred soul.
So I have this thing for blow molds. Both Halloween and Christmas, but Halloween blow molds are the only ones I collect. My collection is small (five is a collection, right?) and most are in the rafters in the garage, waiting for Halloween, but I just found two that escaped the curse of the Halloween storage…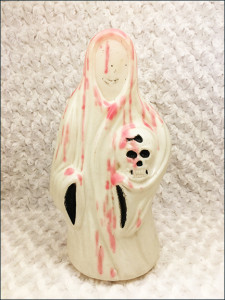 This one I've had since childhood, and I totally defiled it with red candle wax. And, for some reason, the face is all rubbed off. I think I'll restore this, as the state of this ghostly beauty is tormenting me.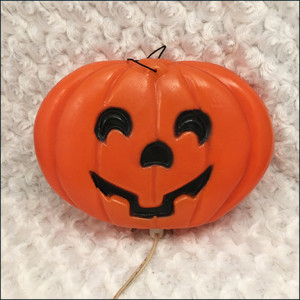 I picked this one up at a thrift store a couple of years ago. When I find something like this, it feels like I've won a prize, I swear. It's not obvious from the photo, but this Jack is flat and hangs on the wall. It casts a lovely orange glow. I call it mood lighting.