Give a Friend a Spooky Book: 9 Eerie Favorites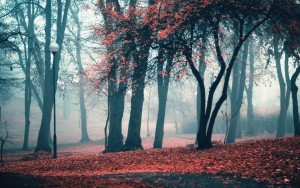 It's nearing summer, and if you're like me, that fills you with dread. Not the good kind of dread, but the ready kind of dread. At least if you live in a state where the weather can top 100°F for days in a row, and you're a delicate flower petal who wilts in the heat. All summer long you pine for autumn, with its crisp breezes and the best holidays ever.
There's a need that has to be filled for those of us who count the days 'til autumn… a psychological need to line up one's neurons with reminders that dreaded summer will not last foreverrrrrr. I equate autumn with eeriness, and if you're reading this, you quite possibly do as well. So, what better to caress the hope and make the wait tolerable than to sink one's brain into the eerie world we hold so dear? Books! Spooky ones!